Oticon™ More Hearing Aids
We hear with our brains and Oticon™ spent countless man hours, research, and development costs understanding this principle to bring you Oticon More Hearing Aids.
With Oticon's New Approach To Delivering The Best Audiology
The Oticon More hearing aid is revolutionizing the world of audiology by bringing a brand new experience to those affected by hearing loss. Utilizing advanced technology, this cutting-edge device not only improves speech understanding but also helps users navigate their environment with greater ease and confidence. What sets the Oticon More apart from conventional hearing aids is its unique ability to accurately mimic the natural processes of the human ear. With this innovative approach, users can immerse themselves in a rich, clear sound experience that enhances their overall quality of life. Additionally, the built-in rechargeable battery ensures that the joy of sound is never interrupted. For individuals seeking to overcome their hearing challenges, the Oticon More hearing aid is the start of an exciting journey towards an improved, fulfilling life. People with hearing loss will experience more of what the world has to offer. The extreme speed of this new technology stimulates users with more accurate information about everything around them. This enables them to more easily locate and separate sound sources and focus on what they find important while maintaining the full sound picture. Carlisle Hearing Center offers fast and reliable Oticon hearing aid repairs. Our experienced technicians provide quality service and a quick turnaround time so you can get back to life with improved hearing. Contact us today for your Oticon repair needs.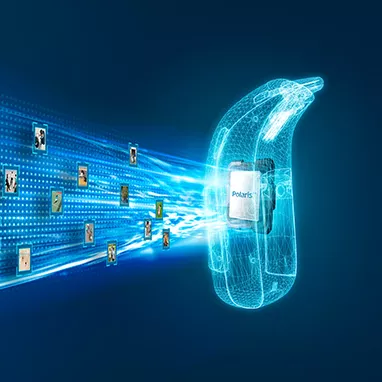 The world's first hearing aid with an on-board Deep Neural Network
Introducing the hearing aid that works more like how the brain works because it learned through experience.
Oticon more hearing aid with BrainHearing technology takes hearing healthcare to a new level. It's the world's first hearing aid with a Deep Neural Network (DNN) embedded on the chip. The DNN is trained on 12 million real‑life sounds to give your brain more of the information it needs to decipher the intricate details of relevant sounds.
The DNN in Oticon More is trained with 12 million sounds from real-life to recognize virtually all types of sounds to support your brain
Oticon More works more like how your brain works because it learned through experience
As a result, you get better speech understanding with less effort and the ability to remember more, even in noisy environments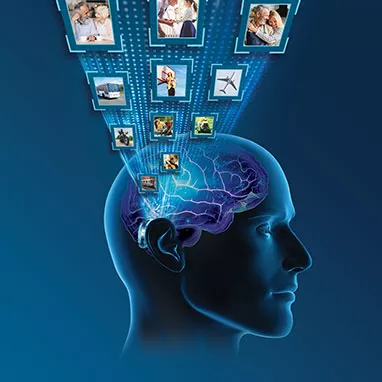 Designed to support your brain
Oticon More supports your brain by giving it more of what it needs to make better sense of sound
Oticon More with BrainHearing™ technology is a revolutionary hearing aid that gives the brain more of the relevant information it needs to make better sense of sound, so you can get better speech understanding with less effort and the ability to remember more. Take better care of your brain, and your brain will take better care of you.
Oticon More:
Delivers 30% more sound to the brain†
Increases speech understanding by 15%†
Reduces listening effort so that you remember more of what is being said
***Amieva et al. Self-reported hearing loss, hearing aids, and cognitive decline in elderly adults: a 25-year study. 2015.
†Compared to Oticon Opn S™, Santurette, et al. 2020. Oticon More clinical evidence. Oticon Whitepaper.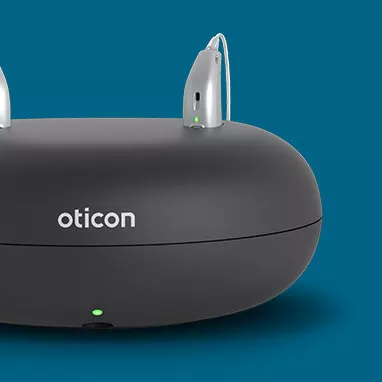 Made for a full day's power, every day**
Oticon More miniRITE R rechargeable style takes just three hours to charge for a full day's power**
Superb sound quality with the style and groundbreaking features you want to enhance your life, all designed into one compact device. The new Oticon More miniRITE R is a discreet lithium–ion-based rechargeable style that provides a full day of battery life,** including streaming, after just three hours of charging. Better hearing and speech understanding in a variety of environments, with less effort and worry‑free rechargeability for more convenience. That's Oticon More.
No disposable batteries means less hassle and waste

Quick recharge of 30 minutes for an additional six hours of power
**Lithium-ion performance varies depending on hearing loss, lifestyle and streaming behavior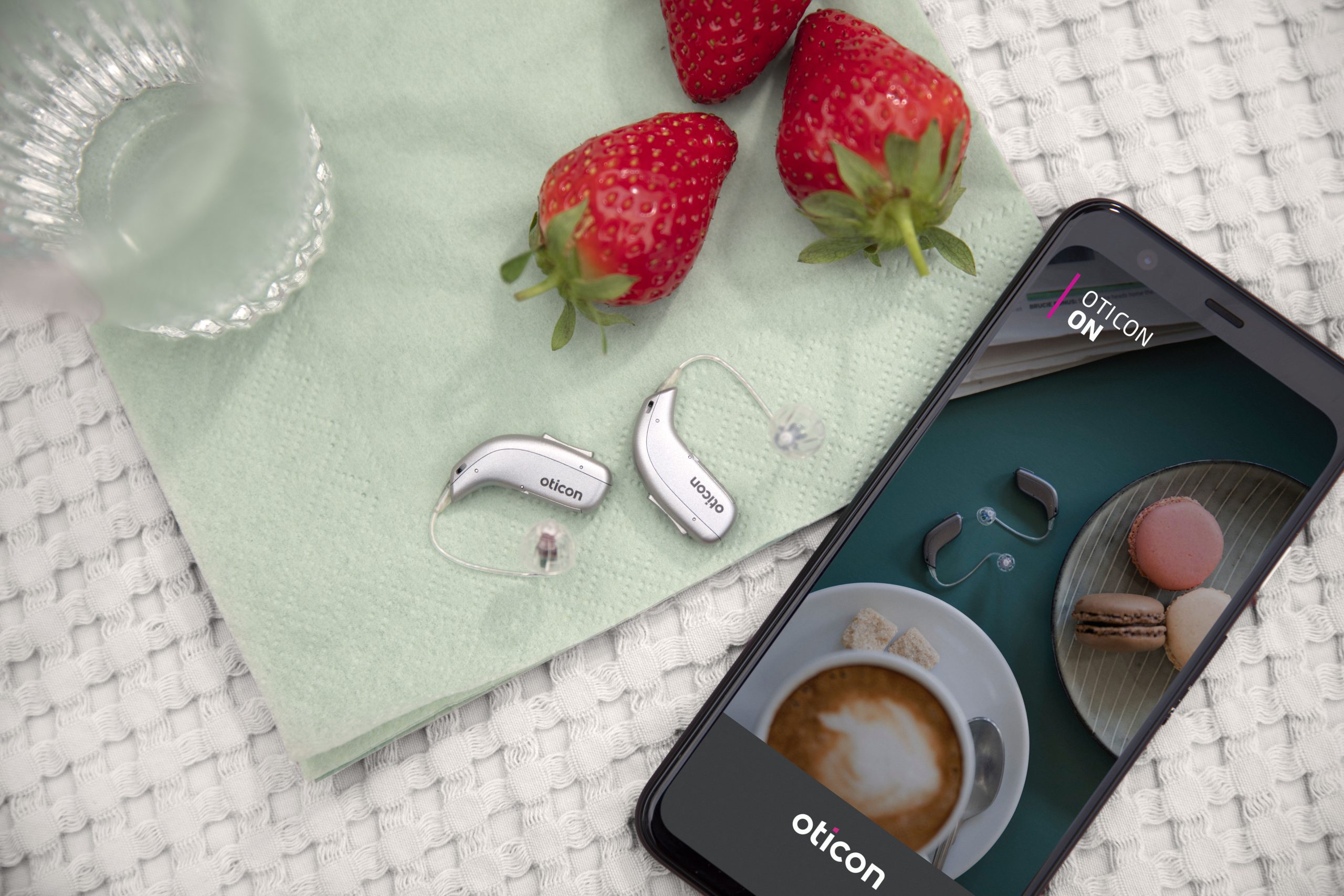 More connections. More conversations. More life.
Staying connected to family and friends is more important than ever. With the Oticon More hearing aid, you also get a wide range of connectivity options for a high-quality listening experience in everyday situations, so you can go through your day with more confidence and convenience.
Direct streaming from iPhone® and select Android™ devices*
Make hands-free calls from any smartphone or connect a remote microphone with ConnectClip
Stream sound directly from your TV with Oticon's TV adapter
Use

 

Oticon ON app

 

for easy, discreet control over the hearing aid from your fingertips
*Android devices need to support ASHA to allow direct connectivity to Oticon More. Please visit Oticon.com/support/compatibility for more information.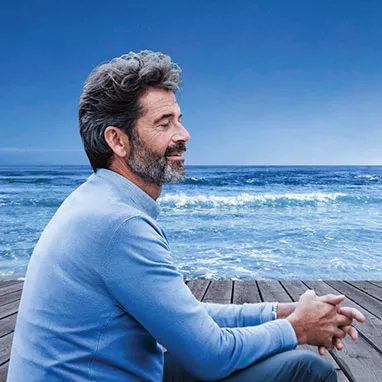 Tinnitus relief
Take back control and manage tinnitus symptoms with Tinnitus SoundSupport™. This feature offers a variety of relief sounds, including popular ocean‑like sounds that can be customized for your hearing needs. If you're looking for tinnitus therapy in Carlisle, consider reaching out to experienced tinnitus specialists today.
As someone constantly seeking ways to alleviate the nagging sensation of tinnitus, discovering tinnitus therapy in Carlisle, Pennsylvania could be the ultimate game-changer. Imagine the liberation you'll experience when you're finally able to wirelessly stream alternative tinnitus relief options directly to your ears! Oticon hearing aids with Tinnitus sound support help you take control of your tinnitus by playing a wide range of relief sounds like white noise and soothing ocean-like sounds. You can discreetly control the sounds in your hearing aids using the Oticon ON App for iPhone and Android. You can adjust the sounds until they give the relief you need — wherever you find yourself needing it. What's more, you can wirelessly stream alternative tinnitus relief options, such as your favorite music, audio books, podcasts, or even relaxation guides.
We Accept Most Insurances!