Oticon OPn S is HERE!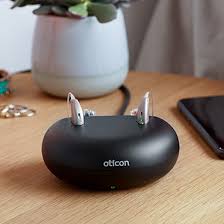 Oticon's Opn S Hearing Aids Improve Speech-in-Noise Understanding
Second-Generation Opn Products Also Feature Enhanced Feedback Cancelling
Ever since Oticon introduced its popular Opn hearing aids in 2016, the company's stated goal has been to enable people with hearing loss to understand speech, even in noisy environments, "on par with people with normal hearing." With today's announcement of its second-generation Opn hearing aids, Oticon says it has come even closer to reaching that goal.
Oticon says the new Opn S sound processing platform will provide improvements over the original Opn hearing aids by at least three different measures. Documentation in today's 2018 financial report from corporate parent Demant A/S says Oticon Opn S will deliver:
15% improvement in speech understanding versus Opn.
10% reduction in listening effort versus Opn.
10% increase in memory recall versus Opn.
The measures are based on Oticon research by from Josefine Juul Jensen, whose past work for the company is the basis for claims that Oticon's BrainHearing™ technology improves hearing-aid users' ability to understand speech in noise.
Source: Demant A/S financial presentation
In addition to better sound processing, Oticon said the new hearing aids will feature dramatically improved feedback cancelling along with a new OpenSound Booster in the Oticon On App. Users will be able to use their iPhone or Android smartphones to boost hearing support in their hearing aids when they feel they need it.
Noting that even the simple act of hugging someone can cause annoying high-pitched feedback, Oticon Global Brand President Ole Asboe Jørgensen said that "without the risk of feedback, users can now feel confidently comfortable wearing their hearing aids."
Market rollout of the Opn S family will start in March, the company said.
Rechargeable solution, models for other brands are on the way
In announcing its year-end financial results, parent-company Demant also disclosed the new technology platform will spawn a range of products from Oticon and the holding company's other brands.
Oticon Opn S models will be available at three premium price points in four styles.
One of the Opn S models will be the company's first Signia rechargeable hearing aids based on lithium-ion battery technology.
Oticon lithium-ion rechargeable solution. Source: Demant A/S financial presentation
No wireless news
Whether Oticon and Demant's other brands have additional wireless solutions in the works is an open question. The Opn hearing aids feature Made-for-iPhone wireless smartphone streaming and offer a ConnectClip accessory to enable wireless streaming from Android smartphones. Oticon also offers an accessory to stream TV audio into the hearing aids. But neither Oticon or Demant spoke of potential wireless upgrades in their announcements.
The major hearing-aid manufacturers have been in a race to offer robust wireless audio streaming from phones since GN ReSound introduced the first Made-for-iPhone (Mfi) hearing aid in 2014. Others followed with their own iPhone solutions, as well as accessories to enable streaming from Android phones and other Bluetooth devices.
In 2018, Phonak leapfrogged its competitors with a new chipset that enables wireless streaming to both hearing aids at once from any Bluetooth-enabled device, including iPhones and Android phones, without any intermediary streaming accessory. Oticon and other leading brands offer apps for both iPhone and Android smartphones that provide wireless control of hearing aid functions such as volume and program settings. But they don't yet offer universal wireless Bluetooth compatibility.
Introducing the new Oticon Opn S™ [Video]
"Oticon Opn S breaks a law of physics and delivers further improvements in speech understanding and listening effort. Fuelled by the new, advanced Velox S™ platform, Oticon Opn S takes the open sound experience and unique benefits of BrainHearing™ to new grounds." – Source: Oticon
Stay up to date on new Oticon Opn S product information. Please subscribe to our newsletter using the button below!
Information on the hearing industries latest trends, practices, procedures and equipment to keep you well informed.